Karl Raupp
Darmstadt 1837 - München 1918


Born in Darmstadt in 1837, Karl Raupp first trained in Darmstadt under the landscape painter August Lucas. In 1856 the young Karl Raupp went to Frankfurt am Main, where he continued his training at the Städelschule under Jakob Becker until 1858. Then Raupp transferred to the Munich Art Academy, where he remained until 1866. There Raupp was in the master class taught by Karl Theodor von Piloty, who initiated Raupp into history painting. Raupp was also stimulated by the "artistische Plattenkultur", which he could realize in the genre of landscape.
Raupp was a professor at the Nuremberg School for the "Decorative and Applied Arts" from 1868 until 1879 before returning to Munich, where he began to teach at the Munich Academy in 1882.
Raupp became acquainted with Lake Chiemsee and the Fraueninsel in 1869, where the landscape and the people inspired him to many paintings. "Chiemsee Raupp", as he is often called, founded an artists' colony on the Fraueninsel and was one of the editors of the Frauenchiemsee Künstlerchronik, which was published in 1918.
Karl Raupp's paintings reveal a combination of precise observation of landscape, as practised in the Biedermeier era, and the genre painting so popular in the 1870s boom years. Like Joseph Wopfner, Raupp added tragic effects to his Chiemsee landscapes, an innovation at the time. Scenes with boats about to capsize, in which man is ennobled by his resistance to the vicissitudes of the elements distinguish Karl Raupp's painting, which tends to reporting.
Not only did Karl Raupp paint; he was an art theorist, whose technical and theoretical knowledge is contained in the "Handbuch der Malerei" (4th ed. 1904). Karl Raupp's work is represented in German museums, including "Aufziehendes Gewitter am Chiemsee" ["Thunderstorm Brewing over Chiemsee"], ca 1885 in the Munich Neue Pinakothek and "Sandiger Hang mit Baumgruppe" ["Sandy Slope with Stand of Trees"] in the Städtische Kunstsammlung in Kassel.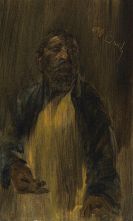 Wilhelm Busch
Ein Bettler
6,660 $
Details